Sunday night, Del and I were up late. I was finishing up laundry and some work around the house...and Del was making a camp stove out of a tuna can. (I know, maybe the most random thing I've ever put on this blog...but that is SERIOUSLY what he was doing.)
I started to hear it sleet, but then when I looked out the window...it was POURING down snow! It was really exciting for Del and I because A: it was a HUGE surprise & B: Del and I have a theory that wherever we are, snow storms (which we love) always go right around us. So, to actually be witnessing one....well,you could say we were a little excited.
And the best part of it is...IT DIDN'T STOP! When we woke up the next morning, this is what we saw! Props to USPS! Nothing stops those guys.
At this point in the morning, it had already snowed almost 4 inches!
(And yes, this is our destruction of a porch. But the good thing about the snow is that it covers up all the piles of bricks that are still scattered everywhere. It makes it a little more pleasing to the eye.)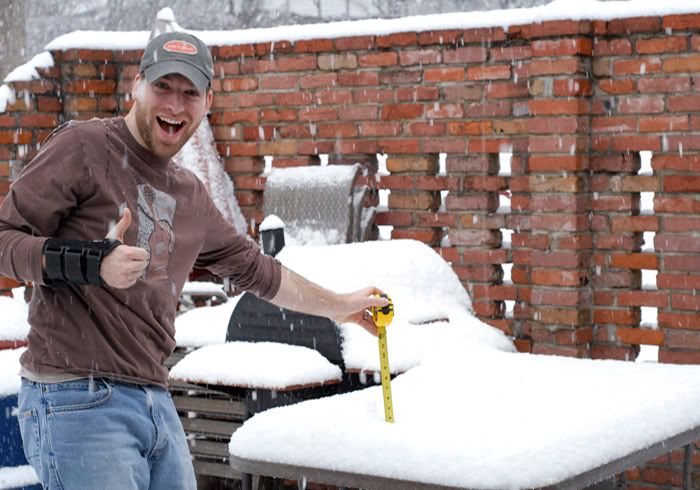 Del and I had a great snow day at home, because UAMS was even closed! He studied a little bit, and I cooked and cleaned a little bit. Then I got a little stir crazy, so I went to Sam's club. Yeahhh....I was one of 6 people there...including the workers. I felt like a huge loser, so I got Del's coffee and left. We finished up the day by eating
Katie Henry's
Taco Soup & Cornbread
(Which was fa-nominal, Katie. Thanks for sharing...now will you come and be my personal shopper so I can have a fun wardrobe like you?!) and watching a movie.
I couldn't have asked for a better day.